Ireland hero O'Brien: We will not declare
The Cricketer has teamed up with GUERILLA CRICKET for the duration of the historic Ireland vs Pakistan Test in Malahide. After day four, the team caught up with Kevin O'Brien...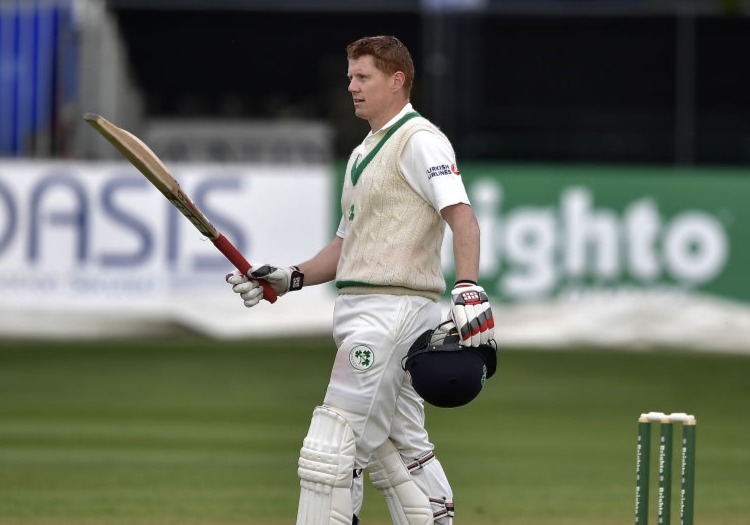 Ireland hero Kevin O'Brien
"We won't be declaring tomorrow," declared the man who will never have to buy a drink in Malahide again, Kevin O'Brien.
Continuing to combine his dual roles as Jesus and Nostradamus (lest we forget, it was he who in this very feature last night noted the possibility of Ireland gaining a lead of 160), Ireland's first men's Test centurion said: "We saw a couple there in the last few overs act a little bit uncharacteristically.
"That gives us a bit of hope that if we can get the lead up to as close to 180 or 200 as we can, the cracks will start to appear and we might get a few to shoot along the ground."
He did concede that he and the lower order would have to be wary initially, as Pakistan would come out 'all guns blazing'.
This is not an unfounded concern, as the disparity between sessions in this Test has been quite stark, with a wicket on average every seven overs in the morning and afternoon sessions and every 25 overs in the evening - with a hat-trip to CricViz.
That said, with Pakistan looking increasingly out-of-sorts in the field and uncertainty over Mohammad Amir's knee, the €10 entry fee for day five looks like the biggest bargain since the Louisiana Purchase.
The Cricketer has teamed up with Guerilla Cricket - the official radio broadcaster of the game - to get insight from Malahide.
Listen to ball-by-ball commentary by clicking here
Follow Guerilla Cricket on Twitter - @guerillacricket