Coin toss to stay in Test cricket, ICC committee says
In an attempt to deter home teams from preparing pitches specifically to suit them, it had been suggested that the ICC would remove the toss from the game and instead give the away team the uncontested choice of what to do first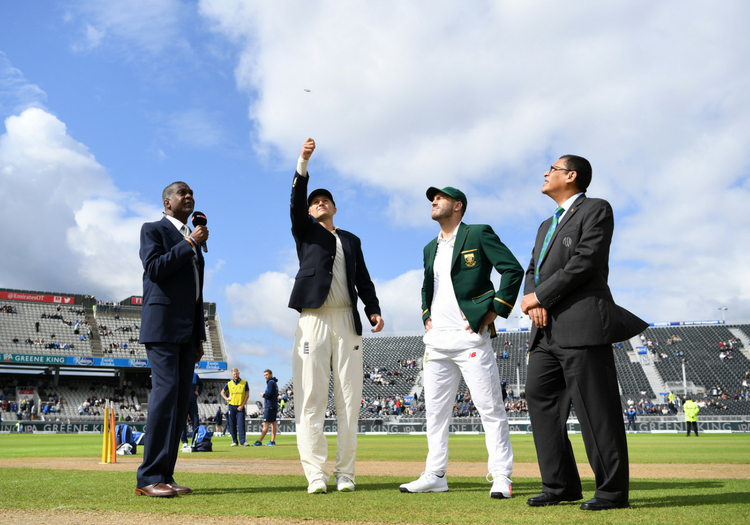 The coin toss looks set to remain in Test cricket
Meeting in Mumbai, the ICC's cricket committee has opted against abolishing the traditional toss from Test match cricket.
In an attempt to deter home teams from preparing pitches specifically to suit them, it had been suggested that the ICC would remove the toss from the game and instead give the away team the uncontested choice of what to do first.
However the panel, headed by all-time great Indian leggie Anil Kumble, passed on this proposal.
"The Committee discussed whether the toss should be automatically awarded to the visiting team," an ICC statement read, "but felt that it was an integral part of Test cricket which forms part of the narrative of the game.
"However, in acknowledging that the preparation of Test pitches that could provide a risk to the competitiveness of the ICC World Test Championship, the Committee urged members to continue to focus on the delivery of pitches that provide a better balance between bat and ball in line with ICC regulations."
The proposals had been met with mixed reviews from voices within the game. David Lloyd, writing in the Daily Mail last week, branded it "daft", while former Indian captain Sourav Ganguly also stated that he was against it, playing down the advantage it grants to the home team: "If the home team loses the toss, the advantage does not stay".
Former Australian captains Steve Waugh and Ricky Ponting meanwhile were in favour of the move, as was Pakistan legend Javed Miandad, with the ECB also giving it its backing.
The abolition would have been an extension of the ECB's own revamp of the pre-match regulations intigated in the County Championship in 2016, which gave the visiting team the right to forego the toss should they wish to bowl first.
The ICC committee however has deemed abolishing the toss one step too far, possibly through fear of the backlash from traditionalists who see it as part and parcel of the Test match experience.
What has been approved however is harsher sanctions for ball-tampering. In the wake of the incident during Australia's tour of South Africa in March, the ICC was only empowered to ban offenders for a single match and fine them 100 per cent of their match fee.
This sanction was very quickly demoted to loose change after Cricket Australia doled out bans of nine to 12 months to Steve Smith, David Warner and Cameron Bancroft for their roles in the affair.