This was as much about business as ball-tampering... Cricket Australia's reaction makes commercial sense
SAM MORSHEAD: Cricket Australia have not so much punished the players for the crime itself but for the reputational damage inflicted by their reckless, arrogant actions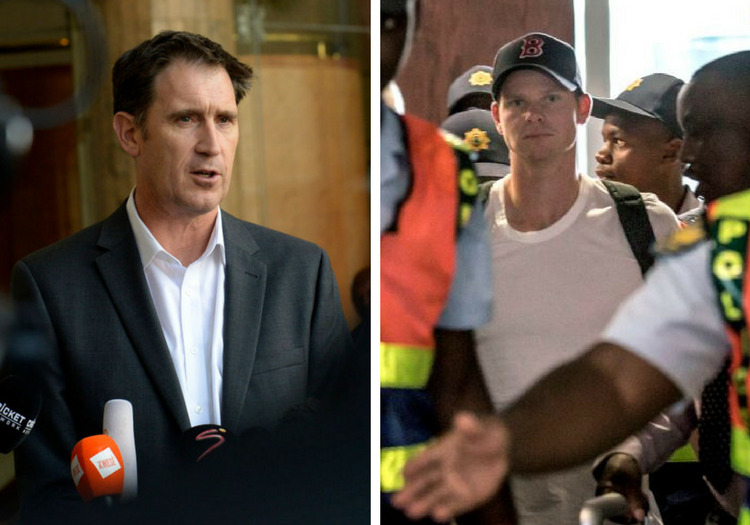 Cricket Australia's gavel came down with an almighty crack, and the sport will be hearing the echo for some time to come.
Make no mistake, this decision was as much about business as it was ball-tampering. It was about sponsorship. It was about TV rights. It was about commercial status. It was about bargaining position, image perception and satiating those who bayed and barked and begged for blood.
The headlines will tell us that Steve Smith, David Warner and Cameron Bancroft were suspended for 12, 12 and nine months respectively because they conspired to cheat on the cricket field but that is only a partial reflection of events in South Africa.
Cricket Australia have not so much punished the players for the crime itself but for the reputational damage inflicted by their reckless, arrogant actions.
They have moved quickly and ruthlessly in an effort to show they care about values which, quite frankly, appear to have been lacking in their senior men's side for one heck of a lot longer than the past four days.
The sanctions they have dished out are heavy-handed, disconnected from the Laws of the game, and out-of-keeping with previous examples of penalties for Aussie misdemeanour.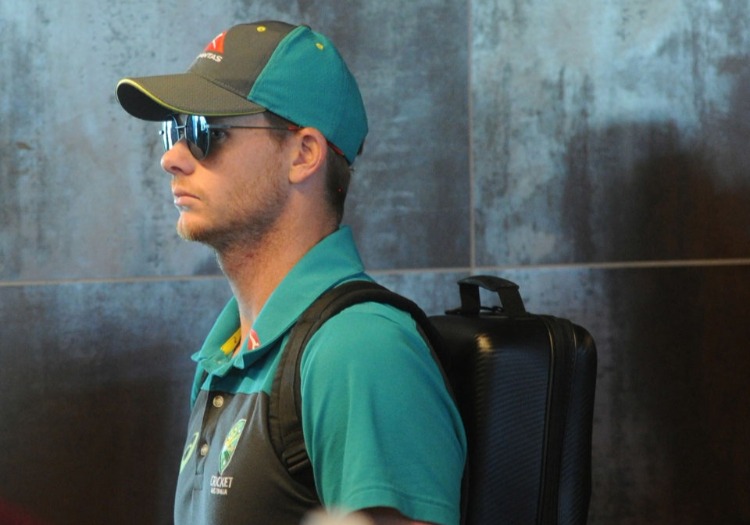 Steve Smith at Cape Town airport
It's like a prospective buyer pointing out that the carpets are a bit mucky, only for the homeowner to torch the entire ground floor.
Yet, from a commercial perspective, Cricket Australia's reaction makes sense. In a world where PR executives make a merry penny and perceptions can be quickly mutilated by social media mobs, maintaining values - whatever the hell they happen to be - is a complicated and fragile process.
James Sutherland, CA's chief exec, has spent the past 24 hours desperately scrubbing at the dirty, naked torso of Australian cricket in the vain hope that, somehow, perhaps with enough elbow grease, he might be able to make the damn thing presentable again.
Right now, though, he could be armed with a gallon of ammonia and a heavyweight scouring brush and the mud still wouldn't budge.
This sorry incident could not have come at a worse time for the governing body, with an ongoing TV rights bidding process reportedly not going to plan and a fear lingering that their $150m-a-year target is not going to be reached.
Furthermore, a number of Cricket Australia's official partners - of which there are many - have already gone public to decry what happened at Newlands.
Politicians have been queueing up to give their tuppence-worth in the vague hope it might improve their polling data and we the media have ridden the story hard (with good reason, the public interest is huge, as shown by the 100 per cent spike in traffic to this website since Saturday).
Sutherland was left at a crossroads, with many exits leading only towards commercial difficulty. So he and Cricket Australia came down hard.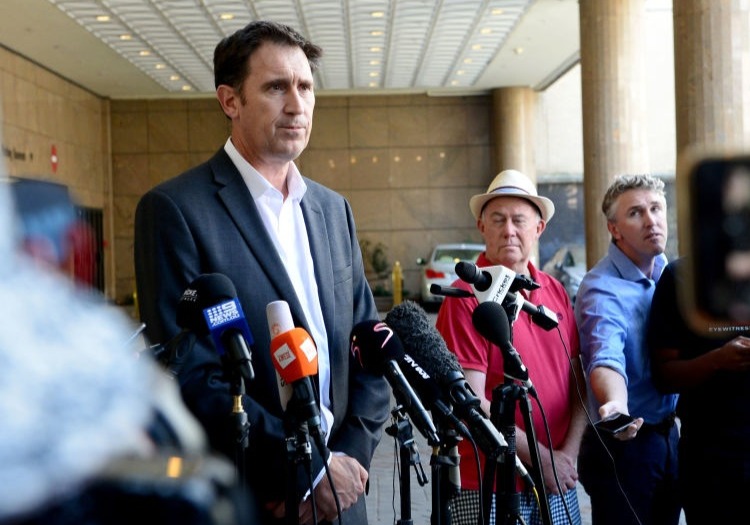 James Sutherland addresses the media
Purely going by the Laws of the game, the maximum sanction was a one-match ban, which the ICC labelled against Smith.
"They haven't been charged by Cricket Australia for ball tampering. It's something that's important to remind people that the code is worth reading, those four dot points, that's what they've been charged for," Sutherland said in a press conference on Wednesday.
"That's the significance. It relates to contrary to the spirit of the game, it relates to denigrating the game or having an impact on the reputation and image of the game, causing damage to the game, all of those things have quite clearly happened in a short space of time as a result of those actions. That's what the report is for and the sanctions are on that basis."
There is a fine line in modern sport between denigrating the game and denigrating commercial relationships. Perhaps that is why these sanctions are so severe in comparison to their predecessors.
Going by examples set by cricketing authorities in the past, punishments have ranged from small fines (Michael Atherton in 1994) to suspensions of two matches (Shahid Afridi in 2010). The most recent incident, involving Faf du Plessis, resulted only in a financial penalty.
Going by examples set by Australian administrators, the only parallel sanction was the year-long ban served by Shane Warne for use of a banned diuretic in 2003.
It might be that Cricket Australia is changing lanes, steering away from a laissez-faire approach to governance of the national team and towards a much stricter future.
THE RAP SHEET IN FULL

STEVE SMITH

- Knowledge of a plan to artificially alter the condition of the ball

- Failure to prevent the implementation of the plan

- Directing the concealment of evidence on the field of play

- Seeking to mislead match officials

- Misleading public comments

DAVID WARNER

- Development of a plan to artificially alter the condition of the ball

- Instruction to a junior player to carry out the plan

- Advising a junior player over how to alter the condition of the ball

- Demonstrating how artifical alteration of the ball's condition could be achieved

- Failure to prevent the implementation of the plan

- Failure to report knowledge of the plan

- Misleading match officials

CAMERON BANCROFT

- Knowledge of and being party to the plan

- Carrying out instructions to artificially alter the condition of the ball

- Seeking to conceal evidence

- Seeking to mislead match officials

- Misleading public comments
That would be an interesting twist.
For an institution which has recently sought at every turn to punish its players for even the slightest hint of indiscretion domestically, it has taken some time for Cricket Australia to decide that their flagship team ought to be held to similar standards.
Matthew Wade slaps his bat on a chair. That'll be six grand, please.
Warner goads Quinton de Kock to the end of his tether. Nada.
Ryan Harris describes an umpiring decision as "shocking" on Twitter. Three thousand dollars in the Big Bash bank.
Jonny Bairstow is harangued by Aussie fielders. Boys will be boys.
Cricket Australia are now reviewing the conduct of the men's team. Was that initiative going to happen prior to Bancroft pulling a slice of sandpaper out of his jockstrap?
Why wasn't there a review after the distasteful exchanges during the Ashes?
Why wasn't there a review after Warner's baiting of De Kock?
Were any of the litany of incidents over the course of the past year not serious enough for Cricket Australia to deem them to be "denigrating to the game"?
Why is it only now that the elastic bounds of that famous line have finally been met?
Of course Smith, Warner and Bancroft deserved their day of reckoning; they decided their need to win was above the Laws and, when caught, garbled out a stream of lies like kids cornered at the local shop with handfuls of chocolate stuffed in their pockets.
Of course the Australian public were disappointed, though spare us the political piggy-backing that comes with every such sporting drama.
And of course the right message needs to be sent to the youth of Australia, whom Sutherland was at pains to address personally in his Tuesday night press conference.
David Warner on the team bus
"I want to apologise to all Australians that these events have taken place, especially to all the kids who love cricket and idolise the players," he said, though whether the kids could hear him through their upturned chicken buckets is hard to say.
But these are not so much suspensions as sentences.
Smith and Warner have both lost IPL contracts, they won't be able to play in the Big Bash later this year and, unless a county comes up with the cash (and given all that's been written and said about Warner over the past month his best chance is at a county with an ostrich for a chairman) the most they can reasonably hope for in preparation for next summer's Ashes is a few knocks in Sydney grade cricket.
Bancroft, playing in just his seventh Test when he agreed to be the willing saboteur, enjoyed dreamlike form in the months before his selection, the kind of form you rarely see during a career. Matt Renshaw has his place back now, and there's every chance Bancroft will never become a Baggy Green regular again.
There is an argument that these three players are paying the price, that they are being held accountable for their actions.
A close friend of mine from school, who loves the game as much as anyone I've ever met, is celebrating Cricket Australia for upholding and promoting the Spirit of Cricket.
The cynic in me says the only promotion going on here is self-promotion.