Strauss to take a sabbatical to support wife Ruth, with Flower set to fill in
Andrew Strauss is to step away from his role as director of England Cricket to aid his wife Ruth in her cancer battle, Andy Flower fills in and six new scouts have been named beneath National Selector Ed Smith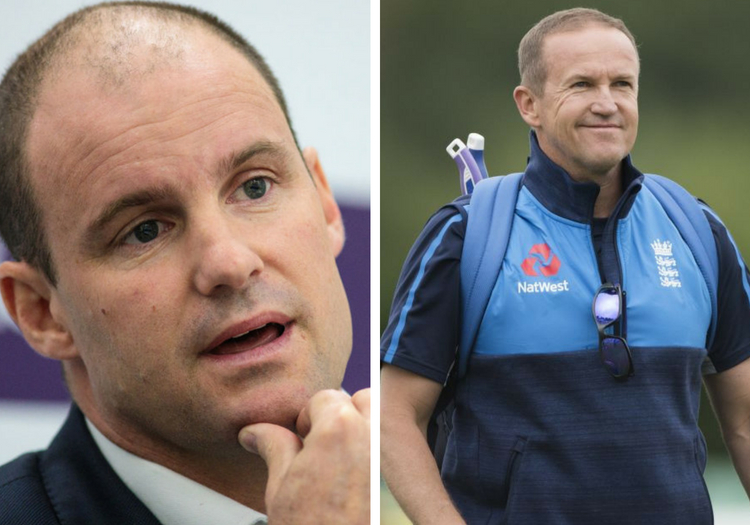 Andrew Strauss, left, and Andy Flower
Andrew Strauss is stepping back from his role as the managing director of England Cricket to be with his wife Ruth as she undergoes treatment for cancer.
Andy Flower is to fill in for him this summer, briefed to start the work that Strauss intends will restore England to the No.1 Test spot in the world.
The former Zimbabwe captain is currently the ECB's director of elite cricket. He was England coach to captain Strauss when the team hit that summit in 2011.
"We all know about Andy's qualities and his experience of both England and English cricket and he will fill my shoes very adequately," said Strauss. "I look forward to returning and grabbing the reins again but, at this period of time, my focus has to be on supoorting Ruth and my family at a challenging time for us."
The Cricketer would like to take this opportunity to offer the Strauss family our best wishes.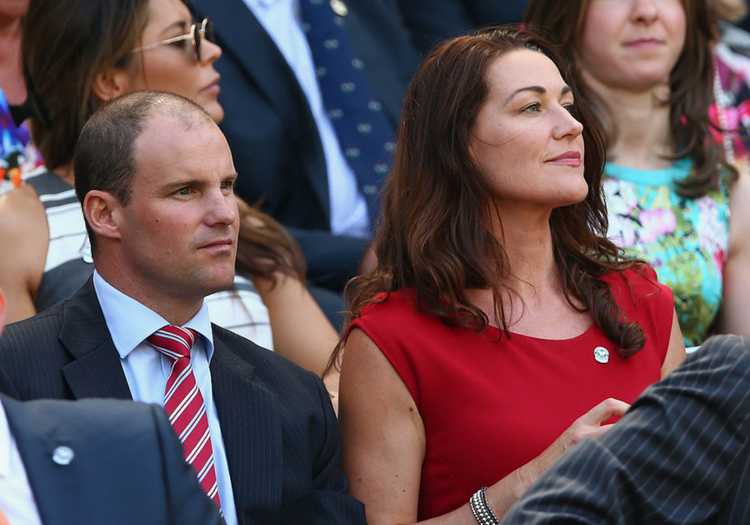 Strauss is taking a step back from his work with the ECB to support his wife Ruth
Before he departs, he articulated what is happening over the next year or so to prepare for the 2020-24 period, effectively the great reboot of English cricket. The new TV deal with Sky and the BBC begins, with six Tests, six one-day internationals and six T20Is per summer, as first revealed by The Cricketer.
Wasim Khan's working group is sitting for the next two months with an agenda to work out how the county game fits in with The Hundred, the ECB's new short-form tournament.
"I think we learnt over the winter, and I think the obvious thing that we all need to work on and there's been plenty written and said about it already, is the performances of our Test team away from home," said Strauss.
"You know over the last two or three years our performance hasn't been good enough, and actually when you look at it this is a long-standing problem for English cricket for 40 years or so; our performances away from home have generally been below world average, and the only two times that it's been above world average is when we got to world No.1 in 2011/12 and No.2 in 2004 under Michael Vaughan.
"I think another thing that came over quite loud and clear over the course of the winter was the way we prepare for those high-profile tours is really important. We are definitely constrained by those scheduled and it's not an issue that's going to go away any time soon.
"Certainly the next Ashes tour is going to be difficult for us, but there is some long-term planning we can do and some short-term planning, and the preparation for that is something that I think we've learned a couple of lessons form on reflection.
"I think character resilience on long tours for players is definitely challenging and it's something we need to continue focusing on. It's one thing having skills on the pitch, there's another thing having that in-depth resilience and character to be able to overcome all the obstacles that get placed in front of you on all tours, especially Ashes tours, and I think also allied to that there's managing the work-loads of support staff. That is just as crucial as the workloads of players.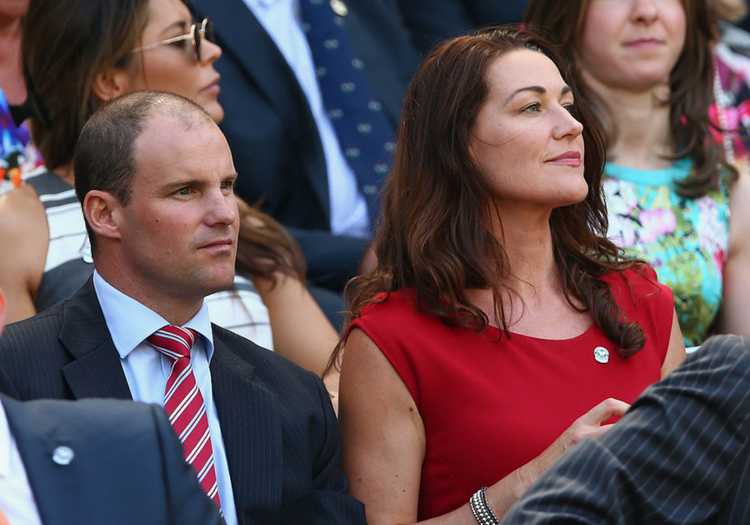 Steve Rhodes is one of six new scouts working with National Selector Ed Smith
"If we genuinely want to make a step forward with regards to winning away from home, we've got to be prepared to approach things very differently, and I think there are two major factors in that. Number one is being far more flexible in how we look to play our cricket away from home and not just assume that what works at home will work away, so more flexibility, more creativity about both the way we play and the players we select.
"The second thing and I think this is the important thing is we need to get better... if you look at English cricketers since the turn of the century, less than a handful of our cricketers have got better records away from home than at home, so if everyone in our team is significantly worse away from home, then the likelihood is we're going to be significantly worse away from home than at home.
"Then I think the third thing is around player identification, players in and around the county game that can offer something different away from home, and there's that perception that the 90mph fast bowler… that doesn't always hold true – there have been plenty of bowlers that have done very well away from home but haven't been that type of bowler, and they've all been exceptionally skilful, so we'll look for those skill levels and people that can offer something different is going to be really important.
"To provide a sort of balance to that and so that it's not all doom and gloom, we're very comfortable where the white-ball team is and it's a significant feather in both Eoin Morgan and Trevor Bayliss' hat that we're able to win in Australia and New Zealand, we got to No.1 in the world, which was England's highest ever ranking in one-day cricket, so 12 months out from the World Cup we're in a good place. We're not complacent because there's a lot of work to do.
"It's about evolving, moving forward, getting a stable team and players who are settled in that team and able to fulfil their role under the pressure of an Ashes series"
"The primary focus for all of us in the England cricket department is around the opportunity in 2019 – an Ashes and a World Cup in the same year in this country is an unbelievable opportunity to do something really special on our home shores, and to really inspire and engage people who aren't always interested in cricket, but in a World Cup environment will definitely tune in to the fortunes of the English national team.
"From a Test perspective, I think it's pretty obvious as you've seen from the selection for this series that we need to be really clear as to how we're going to go about our business, the shape of our team, the responsibility given to different players, and ultimately we need to be more consistent at home but it's worth bearing in mind that over the past few years our results at home have been pretty strong in terms of series won, so that's about evolving, moving forward, getting a stable team and players who are settled in that team and able to fulfil their role under the pressure of an Ashes series."
Strauss indicated that new national selector Ed Smith will be selecting a colleague to help him, and six scouts have been appointed - Marcus Trescothick, Glen Chapple, Steve Rhodes, Richard Dawson, Chris Read and James Taylor.
"They will be compiling reports on players of interest to us. They won't be compiling reports on their own players who are involved in counties," he said.
Strauss stressed how important the county game is to the ECB and the international team.
"We will never have a blank canvas like this again, so we need to grab it with both hands," he said.
"If English cricket wants sustained success we haven't had it up to now, this is our opportunity to do that. Over the next nine to 12 months we will devise a plan to put to the board to achieve sustained success between 2020-24 … not just the England team, but the counties have a huge part to play in that."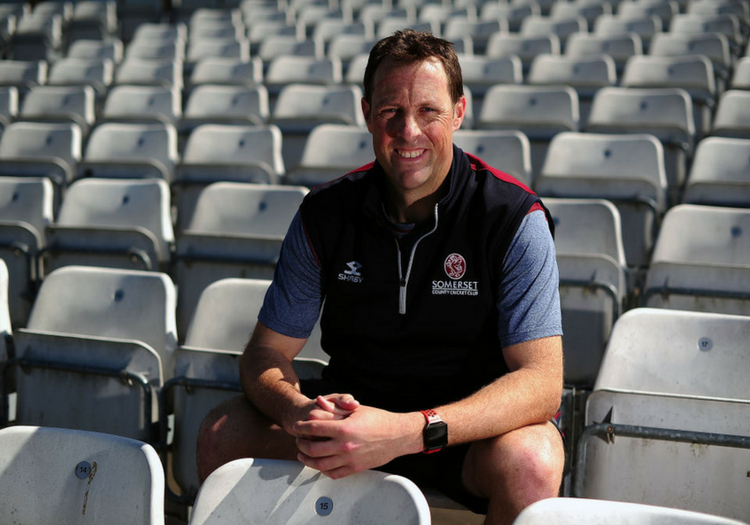 Marcus Trescothick has been named as another scout
He confirmed the midnight curfew is still in place for England players after the Ben Stokes incident in Bristol last September followed by incidents in Australia.
He predicted on Stokes: "He's been out of the side a long period including the Ashes, and he is desperate to make his mark ahead of the trial."
Strauss confirmed England may have different coaches for different formats. "It is hard for a coach to coach all formats. Not impossible but hard."
He disagreed with Trevor Bayliss about abolishing T20Is, and insisted the controversial The Hundred plan is in a "consultation phase" and the ECB will be speaking to players over the coming months. "It is a long time until the first ball bowled. We wanted to explain the rationale behind it." 
He is open to the idea of the County Championship abandoning two divisions and moving to a conference system.
"There is no doubt some unwanted consequences of two divisions," he said.
"We have to look at the positives and negatives. How are we developing young England players? What are the skills required at domestic level comparted to those needed at Test level?"