Miserly Agar, Guptill's endless class and the power of Maxwell... reflections on the Tri Series
Australia enjoyed a fortnight of total dominance in the Trans-Tasman Tri Series, winning all of their matches to claim the tournament title. The Cricketer looks at the major talking points...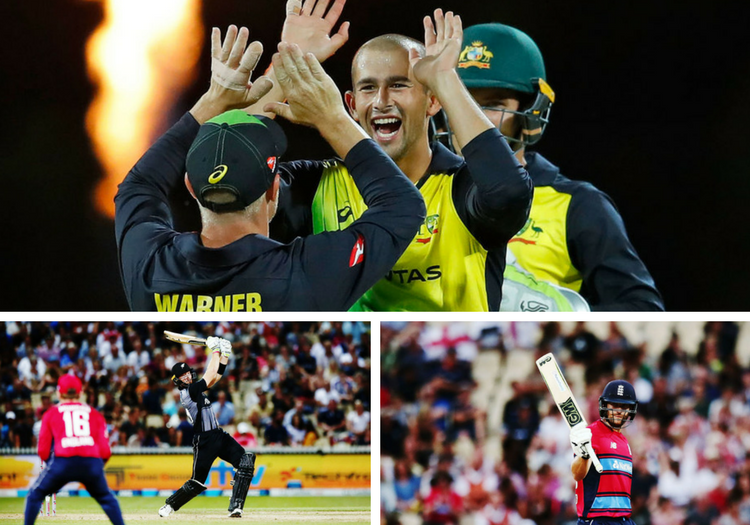 Talking points from the T20 Tri Series
Australia enjoyed a fortnight of total dominance in the Trans-Tasman Tri Series, winning all of their matches to claim the tournament title.
New Zealand and England couldn't keep pace with the Aussies, whose Big Bash stars stepped up to the international arena in style.
The Cricketer reflects on the series...
BIG BASH BOSH
Australia were a class above both England and New Zealand throughout the tournament, winning each of their five games and coming within the featheriest of hair's breadths of the No. 1 spot in the ICC world rankings.
The Aussies can put a lot of their success down to the timing of the competition, coming as it did right at the end of the Big Bash, and the strength of their own domestic T20 extravaganza.
After two months of try-outs for their franchises, it only seemed right for the selectors to give the likes of D'Arcy Short, Kane Richardson and Alex Carey a go at international level, but not every country chooses to go down that route.
The 'gamble', though let's face it this was about as risky as splitting your bet between red and black, paid off for the Green and Gold.
While it still seems bizarre that the schedulers placed the opening match of the series the day before the Big Bash final, in backing one tournament onto another the Australian players were able to quickly and easily transfer their form into the international arena.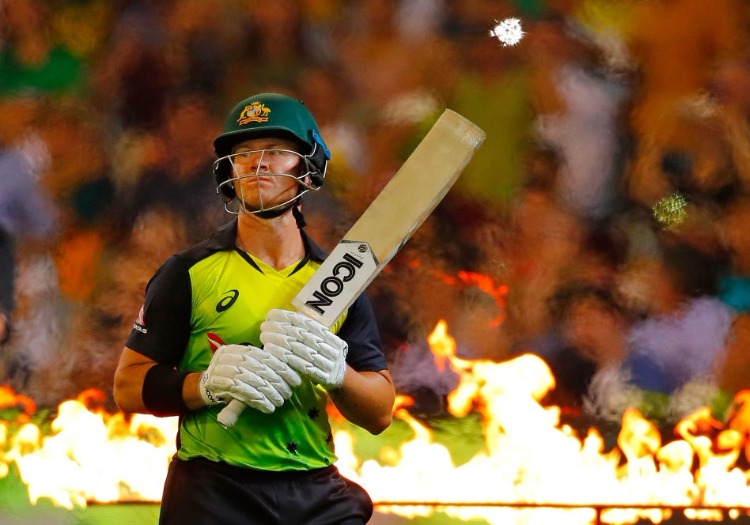 D'Arcy Short enjoyed a prolific tournament
And so it came to pass that Short hit 196 runs at an average of 49, Glenn Maxwell plundered 233 at 116.5 and Australia's bowlers were more miserly than anyone else.
Interestingly, during the series Ricky Ponting lamented the lack of opportunities for Australia's Test players in the short-form arena, suggesting that his country were starving the likes of Steve Smith of T20 gametime.
"The national boys are always away when the BBL is on, there's probably four or five guys that play the entire IPL tournament, no more than that," he said.
"So we're actually starved of the T20 game.
"In an ideal world it would be nice to put out your strongest team more often than not. I know there's challenges with that, but until we start doing that I don't think we're going to improve too much."
Will Punter be feeling differently now, having seen what the Big Bash mob are really capable of?
T20 DIVIDE
Trevor Bayliss split a cricketing nation in two with his comments in the immediate aftermath of England's final game in the tournament.
Though hardly revelatory - Bayliss had previously spoken about his distaste for T20 internationals - in saying he would happily scrap the format in any non-World Cup year, the England coach quickly separated his team's fans into two camps.
Really, Bayliss should be congratulated for making sure the debate is kept at the top of the international agenda.
T20 cricket is, as Nasser Hussain put it, "what the punters want" but the blink-and-you've-missed-it, pyrotechnic party remains a major cause of fixture congestion in the international calendar, which in time could drive players to exhaustion.
As Bayliss said, England have not had to change a side quite as drastically for quite some time and being without several major names must have had an impact.
Joe Root, Jonny Bairstow, Moeen Ali and Chris Woakes were all rested - out of necessity with the one-day and Test tours of New Zealand soon to follow - while Liam Plunkett picked up a recurrence of his hamstring problem midway through and had to fly home.
For Moeen and Woakes especially, both of whom have Indian Premier League stints to look forward to, playing in the Tri Series would have meant non-stop cricket between November and the end of the English summer.
Sustainable? Surely not. Overkill? Most certainly.
So Bayliss's notion that T20 should be left to the franchises is hardly obtuse. Far from being the words of a man stuck in the past, it appears as though he is in fact looking further into the future than many of the rest of us.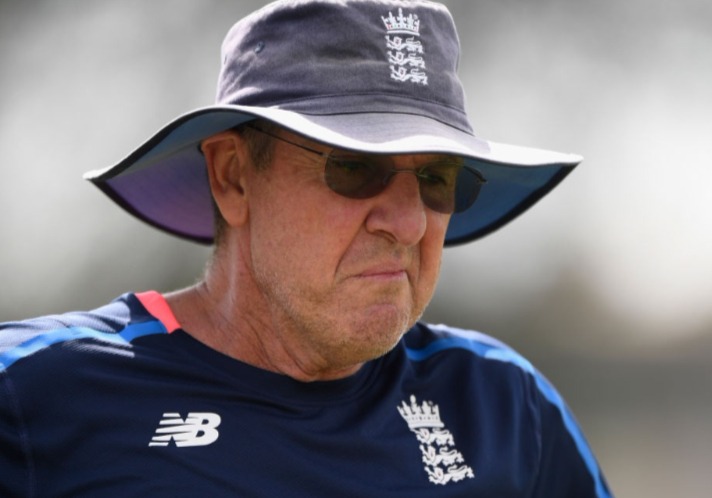 Trevor Bayliss sparked debate about the future of IT20s
AGAR'S ABLE
Maxwell picked up the Man of the Series award for his brutal batting, one exceptional spell with the ball and general excellence in the field but there is a good case for the prize going to one of his team-mates.
If Maxwell was Australia's middle-order hammer, Ashton Agar - another off the Big Bash conveyor belt - was his side's wrench.
After going through the Big Bash with a remarkable economy rate of 5.74, Agar was at it again against New Zealand and England, pinning opponents down at all stages.
Though Andrew Tye, Trent Boult, Billy Stanlake and Kane Richardson all claimed more wickets, Agar was the only bowler with five or more overs under his belt to keep his economy below seven. In a list of the 16 best bowling performances in terms of economy during the Tri Series, the left-armer features four times.
He has form in this regard.
Since the start of 2017, Agar has a remarkable middle-overs economy rate of 5.93 in all T20.
Australia have a choker in their midst… and that's a good thing.
MALAN OF IMPORTANCE
The point has been revisited more often than the GP's office by the local hypochondriac but Dawid Malan's excellent series deserves another look.
Eight short months ago, it must have seemed inconceivable, even to Malan's nearest and dearest, that a 29-year-old county pro would within a year be his country's most reliable batsman in both the longest and shortest formats of the game.
But it is thus.
Malan became the first man ever to make four half-centuries in his first five T20Is during this series, and did so with a combination of casual elegance on the front foot and brutish brilliance back in the crease.
Middlesex's captain smashed nine sixes in the tournament - 50 per cent more than Alex Hales, Jason Roy, James Vince, Jos Buttler and Sam Billings combined - and finished with 70 more runs than any other Englishman.
He really is the Malan with the Golden Guns.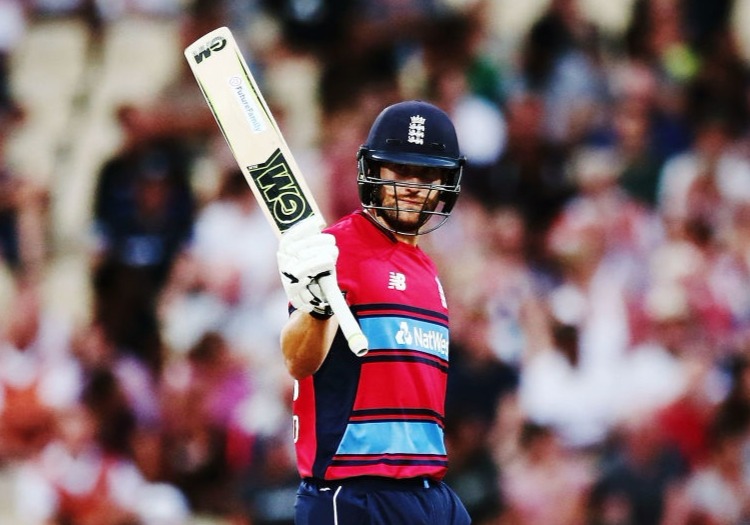 Dawid Malan had an excellent series
CLASS IS PERMANENT
Martin Guptill proved that the old adage still holds weight in our modern times with an exceptional T20 series after a difficult run in the shortest format.
The Kiwi opener went into the campaign having made single-figure scores in five of his previous 10 innings, and added another failure in the first match against Australia.
From then on in, though, he was Captain Carnage.
England were sliced to pieces in the Cake Tin before an astonishing century followed in the run-fest with the Aussies at Eden Park.
A more timid 62 against England at Hamilton followed but by then it was pretty obvious that, if Guptill had ever really been in a rut, he had well and truly clambered out.
MAXI POWER
Why on earth was Glenn Maxwell left out of Australia's one-day team for the first four matches of the ODI series?
Internal politics seem to cause the Aussies to trip over their own feet.
The Victorian seamlessly transferred his Big Bash form onto the IT20 stage, and by the end had every pundit throwing roses at his feet and rushing back to the florists for more.
And why not?
Maxwell's recent record is phenomenal.
Over the past 10 T20 matches, he has made 437 runs from 261 balls at a strike rate of 167.43.
No one faced more deliveries in the Tri Series, yet Maxwell was out just twice to give him a frankly absurd 116.5 average.
Surely he is in that Aussie limited-overs set-up for keeps now.