FOR THE LOVE OF THE GAME: Magic memories of Murali
Guest columnist RAJIV RADHAKRISHNAN starts his mini-essay series about a love affair with our beautiful game with a tribute to Sri Lanka's wizard spinner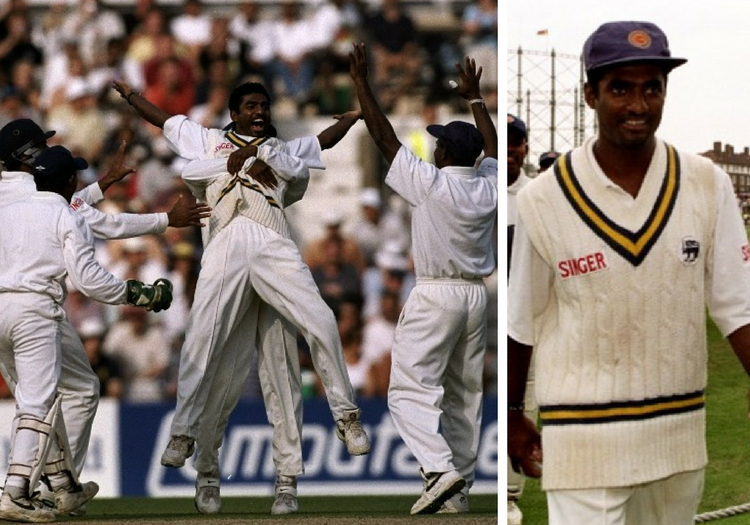 It was late August 1998. English cricket was glowing in the aftermath of a five-Test series win for the first time in over 11 years, after defeating South Africa 2-1. The buoyant feeling was enhanced as the victory came after England were one-nil down.
There was now eager anticipation and optimism for the winter's Ashes series down under. However, before Australia there was a one-off Test England had against Sri Lanka at the Oval.
I had finished my first year at university and was enjoying the long summer afforded to students. I was 19 and being entertained, first with the soccer World Cup and was now looking forward to the customary final feast of an Oval Test at summer's end.
Despite an ardent England supporter, I would be lying if there was not a significant part of me that wanted Sri Lanka to win, not just because my family originate from the island but also because Sri Lanka were a fairly new cricket nation and we all enjoy an underdog succeeding.
Sri Lanka were not deemed worthy of a Test in 1995, where the TCCB gave the West Indies six Tests instead of the usual five. But when Sri Lanka then won the World Cup that very winter, it was joked that "Sri Lanka won't call England anymore, now England can do the chasing".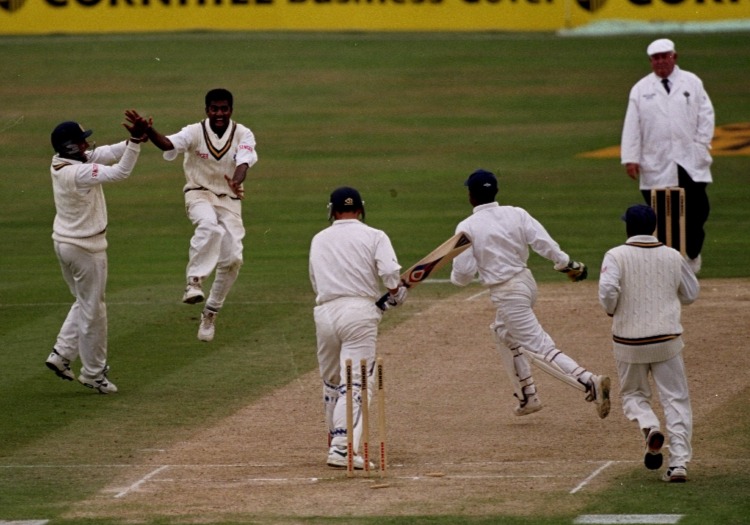 Muttiah Muralitharan stunned England in 1998
With Sri Lanka's now glowing reputation after the 1996 World Cup, a Test in England was arranged in 1998. Sri Lanka's captain, Ranatunga, still longed for a three Test series against England, but that would only come three years later by which time the wily captain had retired.
Due to the World Cup success, where batsmen always win the plaudits, the English public already knew sufficient amounts of what Jayasuriya, De Silva, and Tillakaratne were capable. The Sri Lankan bowlers, however, were relatively unknown to the host supporters.
Sri Lanka were helped before a ball was bowled at the Oval. Atherton, Hussain, and Thorpe were all out injured but more concerning to the home team was that the pitch looked identical to what would be prepared in Colombo; dusty, dry and very turnable.
Ranatunga oddly put England into bat in ideal batting conditions after winning the toss; he would later claim he wanted Muralitharan ("Murali") to have a rest between innings, thus implying that he thought his batting department would register a score high enough to allow him to enforce the follow on. Only Ranatunga could come up with such a confident, if not arrogant statement.
Murali came to England in 1998 with 187 Test wickets (again, Ranatunga showed his confidence (or arrogance) by saying that after the England game he will have reached 200 wickets).
Murali hailed from Kandy but his immediate ancestry was from Tamil Nadu; he was thus more of an Indian Tamil rather than a Sri Lankan one. Regardless, having him in the team helped provide a common ground between the Singhalese majority of the southern part of the island and the Tamil minority in the north.
In 1998 Sri Lanka were very much in the middle of a brutal civil war and the national cricket team provided a necessary source of joy.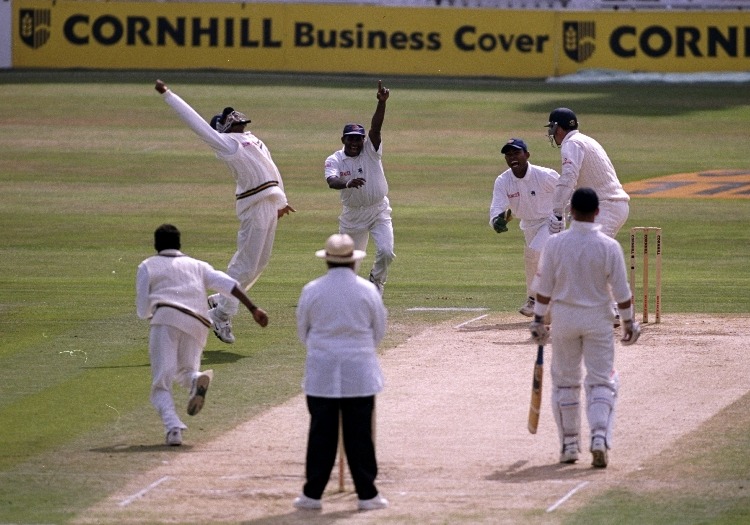 Muralitharan ripped through the England order at The Oval
Against a mediocre opening bowling attack, England began steadily and thanks to Hick and Crawley making centuries, reached 445 but at a run rate of less than three, which even for 1998 was below par. Murali show cased his talent in England for the first time taking seven wickets but his encore in the second innings is what we mainly discuss today.
The Sri Lankan batsmen who began late on day two met little difficulty. They galloped along at under four an over with Jayasuriya and De Silva making big hundreds and the visitors finished on 591. England's 445 just appeared irrelevant and the stage was now set for the third innings and the smiling assassin.
It was a Sunday afternoon, I had the radio commentary on, and the TV on mute. As the BBC covered Test matches in those days (in fact this Test was their last one) the radio and TV were in sync, not like now where the radio is a couple of seconds in front of the Sky coverage. The sun was shining and a spinner was in command on a deadly pitch. This was my cricketing nirvana.
That afternoon session Murali outwitted Butcher who came down the track, misjudged the turn and was efficiently stumped by Kaluwitharana. However, my favourite wicket would come on the fifth day when Murali flighted a ball outside off stump which then drifted in and clean bowled Crawley. It was a work of art.
The fifth day was both exhausting and entertaining to watch. Sri Lanka toiled for over 87 overs to pick up the remaining eight wickets. Ramprakash stood firm for over four hours, frustrating the tourists but soon he became another Murali victim. He also spoiled the party, running out Stewart. If Ramprakash had not taken such an ill judged single Murali could have had all 10 wickets.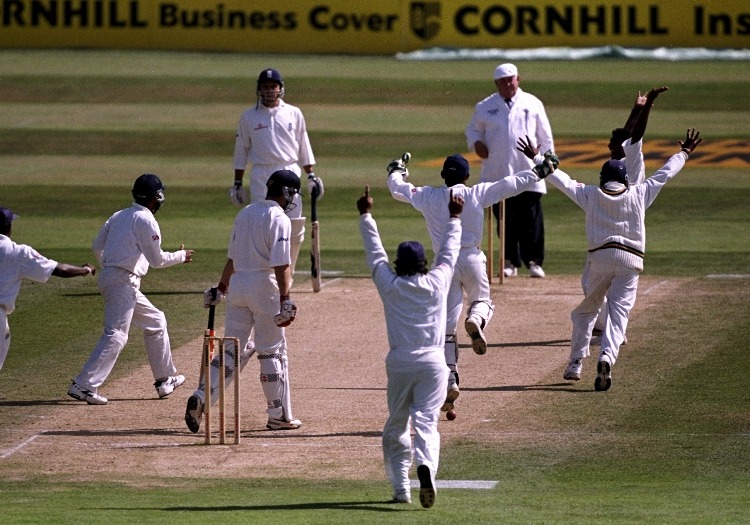 The Sri Lankan claimed 16-220
When Ranatunga, a Buddhist Singhalese captain embraced and hugged Murali, a Tamil Hindu with such visible affection when the last England wicket fell, the scene was captured only briefly on TV. If the cameras had taken a bit more time that moment could have become as poignant to Sri Lankans as the 2005 Ashes Lee-Flintoff photo is to Ashes enthusiasts.
Sri Lanka knocked off the required runs in the fourth innings with no loss. It might have been Murali's match (16-220) but the champagne moment belonged to Jayasuria who square cut Cork for six with both his legs in the air in the final innings. The shot epitomized everything about what Sri Lankan cricket had become – fully of flair, unorthodox, entertaining.
The 1998 Oval Test will always have special memories for me. Twenty years later I look back at the events and realize I was at birth of Sri Lanka as an established Test team (ODI success had already been achieved). This was when the team competed over five days and took 20 wickets to win. The bowlers were now recognizable and receiving the plaudits; ie Murali's arrival on the Test scene coincided with the team's recognition as a Test team.
And Ranatunga could now relax as Sri Lanka would never again be awarded just a one-off Test against any nation (except in 2017 against Zimbabwe which was not a reflection on the standard of Sri Lankan cricket).
The match was not without controversy. Lloyd, the England coach, raised concerns about the legality of Murali's action. Such accusations would haunt Murali for the rest of his career and beyond, despite being cleared on numerous occasions.
After the 16 wickets, Murali went on to become an icon in Sri Lanka and forged a successful 18-year career. He was loved by all communities in the island nation and with his strong Indian ties was loved there too. In later years even the Australians came to his rescue; Waugh, Slater, and of course Bradman readily defending the spin wizard's action.
Murali, along with Warne, Tendulkar and Lara entertained the previous cricket generation; his exploits on the cricket field, his extensive charity work off it, his smile, and his gentlemanly conduct has made all Sri Lankans proud. But more importantly, aside from being a great cricketer, his legacy is that of a good-natured human, always humble and always polite.