A book and a chair: Inside the life of one of cricket's top scorers
Andrew Samson is probably the world's most famous and respected cricket scorer, and one of the best parts of the current BBC Test Match Special production... he sat down with JAMES COYNE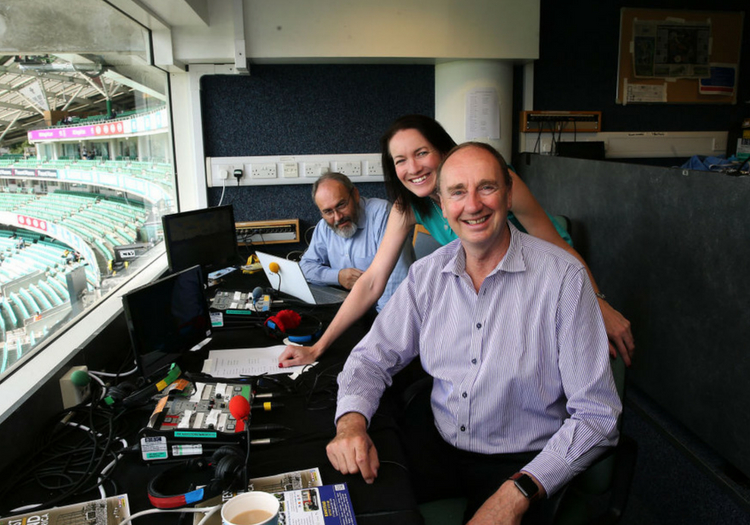 Andrew Samson, left, with Alison Mitchell and Jonathan Agnew
Andrew Samson is probably the world's most famous and respected cricket scorer, and one of the best parts of the current BBC Test Match Special production.
The South African has earned plaudits for his softly-spoken and humorous interjections, razor-sharp judgment of what constitutes a meaningful stat, and ability to remain polite while still concentrating on his scoresheets. (Not the same can be said for all his predecessors…)
Samson spoke to James Coyne as he prepares to score England v Pakistan at Lord's, which will be his 240th Test match...
How old were you when you got into scoring?
I started scoring at school when I was about 15 or 16. I wasn't a very good player, to be honest. I always had decent marks at school, though, so I gravitated towards scoring. At first I just scored in books, but I developed my own linear scoring method once I got to a more serious level and started scoring for ball-by-ball commentary on radio in 1988.
It was mainly in English but there was Afrikaans commentary as well. I can speak a little Afrikaans. I could send you a scan but my scorecards are a little messy!"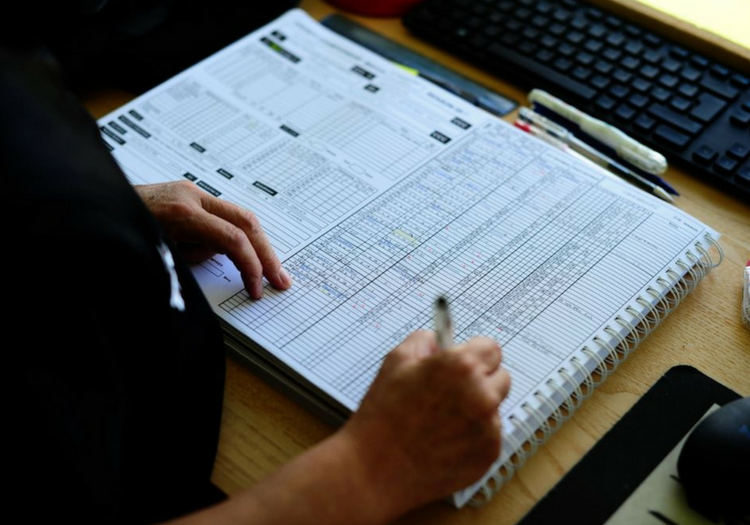 The art of scoring requires plenty of focus and application
Was there enough cricket to keep you sated during South Africa's cricketing isolation?
The options were obviously limited, but there was still the Currie Cup. You were able to score that and do a full-time job. You'd do four or five games a season, as opposed to maybe 20 a season now.
I started doing international cricket as soon as South Africa came out of isolation. I scored for All-India Radio when India came on tour in 1992/93 and I carried on from there. I did a few seasons of TV overseas in Zimbabwe and Sri Lanka.
Do you prefer scoring for TV or radio?
I much prefer radio. There's much more freedom regarding what you can talk about, for a start. The actual physical scoring is exactly the same. On TV you provide more comments off the air, and help the production crew with the stats for graphics.
How much preparation is involved for a day's international cricket?
I do prepare quite a lot before a day's play, for perhaps about two hours – a stats pack for every day. It will include overall records, for the teams in that venue, the teams against each other and on that ground.
You always keep an eye out for career records and milestones that might be passed. But a lot of it you have to react to as things develop. I make sure I speak before we go on air to the commentators, to give them a heads-up, and also see what they think is important.
The internet must have revolutionised scoring…
When I started, scorers didn't have computers at all. There were a few books I would refer to: the South African Cricket Annual was the go-to book back home, and Wisden Cricketers' Almanack and the Wisden Book of Cricket Records were others I would have with me. I kept updated records in five to six of my own notebooks. I'd make sure I had all the career and season averages of every player to hand.
Now I never take any books with me at all! Having databases makes complicated stats easier to find. A career record at a specific venue would have been quite hard to come by in the days before computers.
Now you can find that at the click of a mouse. On the flipside, expectations on statisticians are now greater from commentators and the public, because the database is seen as the answer to all questions. [Samson has his own database, AWS Stats.] And Twitter allows stats to be distributed with great immediacy.
When I started in radio there was generally only one statto at the ground and so all the stats came from him or her, but now people all over the world are sending out different stats on live games all the time, so if you are working at a match, you need be constantly keeping an eye on Twitter and what stats are being produced in case you miss anything.
A commentator may look at their Twitter feed and pick up on something. There are quite a few cricket statisticians who are quite busy on Twitter: Mazher Arshad of Pakistan, Ric Finlay in Australia and a number in India, notably Mohandas Menon, Barath Seervi and Rajneesh Gupta.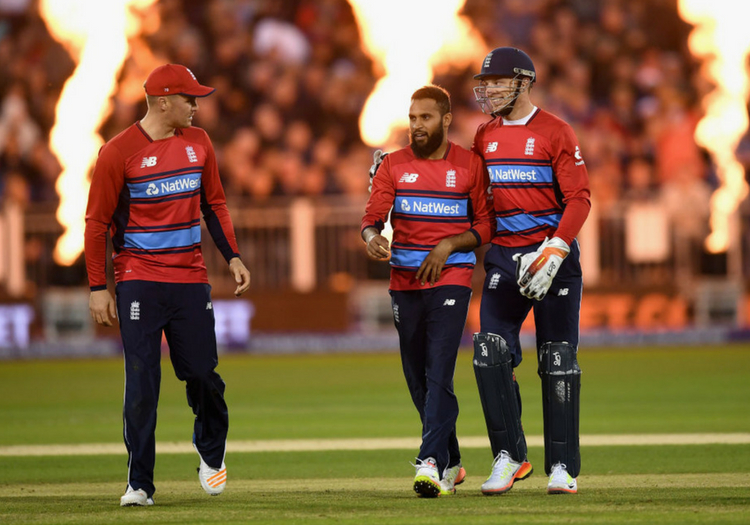 T20 cricket has changed the way Samson operates
How has the rise of T20 affected your trade?
T20 is a different level of stats – more impact-based. It goes far beyond strike-rates. It goes down to how certain batsmen do against certain bowlers, and how they get on in the first five overs or the last five. It's more analytical.
Even so, cricket hasn't really caught up with baseball yet in terms of analytics and stats. I've scored 239 Test matches now. I think, sadly, that T20 will eventually wipe out Test cricket. I just hope it's after I've retired!
It's interesting how scoring changes as the game changes. For instance I cannot remember seeing the phrase 'dot-balls' used in early cricket literature, but now it is used in place of maiden overs to show economy in T20…
There was a bit of discussion on the ACS forum about the phrase dot-balls the other day. I'm not sure of the definitive answer, but it would probably have been the 1970s and 80s when use of that term became more widespread, perhaps as one-day cricket started to mushroom.
Cricket has so many formats and statuses that it's so hard for even die-hards to keep up. For instance the World Cup Qualifier had some games with ODI status and some games with not…
I think it is a bit silly for matches within a tournament to have different statuses. This has been the case in the World Cup Qualifier for a while now. I understand that the Qualifier is used to determine status for the following four years, but that doesn't mean that not all matches in the tournament should have ODI status.
After all, teams have qualified for the tournament via the World Cricket League process, so they are the 'best of the rest'. In the early days of World Cups all matches had ODI status even though countries playing were not all ICC Full Members, like East Africa, Canada and early days of Sri Lanka and Zimbabwe. I think the same principle should apply to the World Cup Qualifier.
[Samson has argued in the past for a comprehensive international ranking system for all the ICC's members, not just elite status for the Full Members and top Associates. Since this interview, the ICC announced a full T20 international ranking system for all its men's and women's teams, which will be devised by David Kendix, a story revealed in The Cricketer magazine.]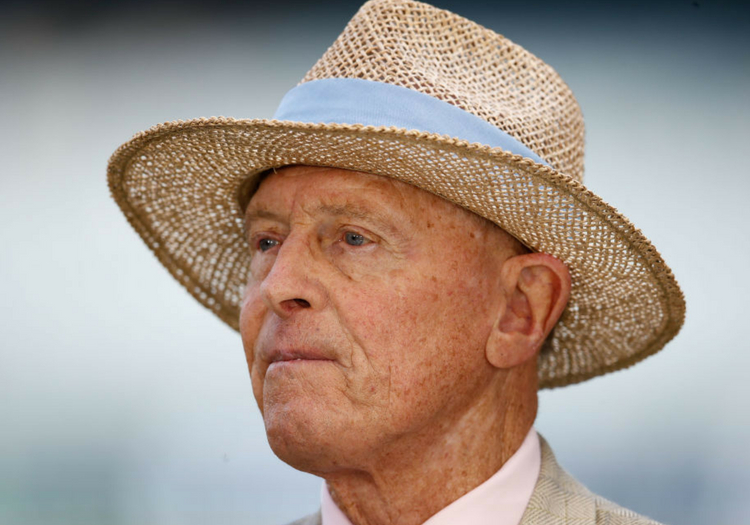 Samson and Agnew played a famous prank on Geoffrey Boycott last summer
Does the Association of Cricket Statisticians and Historians have a crucial role making sense of it all?
"I've been with the ACS since 1980, though I've only managed to get to the AGM a few times, as the journey from Johannesburg is quite far. I was on the committee from 2004–07, and I've kept up correspondence through them on various matters since then, especially over the status of games. I think we do our best to try to keep the ICC on the straight and narrow when it comes to the status of games.
I think the relationship between the two is pretty good now. David Kendix [ACS president] has been on the ICC committee for a long time now, which helps. History has actually been the ACS' focus for a long time now. They've been producing annuals and books for a long time – on subjects that wouldn't have hardly any commercial value at all, but are of great interest to the statistician and the historian."
Last summer at The Oval you and Jonathan Agnew famously pranked Geoff Boycott about having a first-class hundred for the Rest of the World scratched off his record, thus meaning his 100th hundred would not have been scored at Headingley in 1977 after all… What are your views on the rebel tours and Packer SuperTests not having first-class status?
"It's complicated. As a rule I am opposed to changing the status of matches retrospectively, and especially if that involves taking away status of games that were played as first-class. I am less opposed to games being upgraded retrospectively. For instance, in South Africa, non-white three-day matches played during the apartheid era became first-class after the end of apartheid and unity in cricket. 
I wouldn't object to changing the status of Packer games. The reasons for them not being official matches are pretty obvious – it was anti-establishment cricket. But the standard was very good and much higher than a lot of first-class cricket. I did see the rebel tours, and I did enjoy the cricket. It was a chance to see international cricketers who would not normally have come to South Africa.
I was following Test cricket in those days, but I wasn't going abroad to watch. Arosa Sri Lanka were pretty poor, really, but the English, Australian and West Indian teams were pretty decent. I think it was probably the B or C West Indies pace attack, which wasn't to be sniffed at in those days. Obviously the politics behind those series are another issue."
The Moon is Toast: a year in the life of a cricket statistician (2016) by Andrew Samson is available from TSL Publications